Hello everyone! I'm so sorry about being MIA for so long. I've been busy, but mostly, I've been going through some issues. Personal life can be a b*tch at times and mine is being the biggest of them all right now. But I won't bore you with the specifics!
My polish mojo is also nowhere to be found lately, so I haven't been posting as much on my Instagram account as well. Have you ever had those days when you try to do nail art but no matter what you do, it all comes out wrong? Well, I'm having a few of those days, one after the other.
Anyway, today I told myself I will suck it up and just persevere through this funk that I'm in. I have skipped the regular blog segments on Monday (due to a legitimate excuse; we had a nail girls meetup!) and Wednesday (due to personal issues) so I told myself, "no more skipping blog posts! If you do, I'll kick you in the bum so hard." And who wants a kick in the behind, right? So here I am, plowing through like a champ! (Well, maybe not, but I am trying. :P)
For this post I have for you the Pop Art Collection by Mod Lacquer.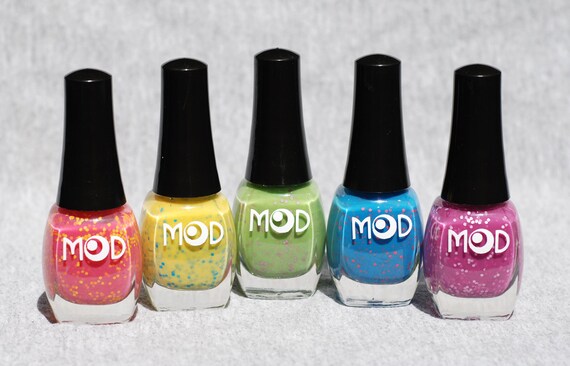 Photo by Mod Lacquer
Who is Mod Lacquer? (copied from Mod Lacquer's Etsy store)
Welcome to Mod Lacquer LLC! I personally hand blend all the nail polish sold in this shop with the intention of creating unique and beautiful designs. Nail polish is one of my life passions, and my goal is to share my passion with as many people as possible.
This collection consists of five bright, squishy jelly polishes with hex glitters. I've always admired this collection when I saw it on Mod Lacquer's Instagram page (@modlacquer) almost a couple of months back, but was only able to purchase it about three weeks ago. So, let's get to the swatches, shall we? :)
Leading the pack is Satire.
Satire is described as "a bright sheer pink/coral jelly base with bright yellow glitter." For some reason, some of the glitters looked orange to me, but maybe that's because they were sandwiched in the jelly base. It dried pretty glossy but I still put top coat to smooth out the glitters. Swatch is three coats with top coat.
Second in line is Far-Out.
Far-Out is described as "a bright sheer yellow jelly base with bright blue glitter." This polish reminds me of Island Girl Island Sunset, but the glitters in this one are a darker blue, and the base on this one is a jelly. Also, I had some broken glitter pieces in this one, but not really a big deal. For this one, I did three coats plus top coat.
Next, we have Juxtapose.
Juxtapose is described as "a bright sheer spring green jelly base with violet glitter." This polish reminds me of the old Barbie lunch boxes with the pink and green motif that I had when I was in elementary school! Ahh, nostalgia.
And her we have Radical.
Radical is described as "a bright sheer blue jelly base with bright pink glitter." This polish kinda reminds me of Barielle Falling Star, but that one has tiny copper glitters whereas Radical has bigger pink glitter. I'm not sure why I am reminded of that polish with this one because they are different, but strangely, it does. This is three coats with top coat.
And rounding out the collection is Subliminal.
Subliminal is described as "a sheer orchid jelly base with small light pink glitter." Again, the strange phenomenon of some of the glitters appearing darker than they really are was observed here. It was as easy to apply as Satireand the same glossy jelly finish. This is three coats, with top coat to smooth out the glitters.
Thoughts? I love jelly polishes, and these did not disappoint. The squishiness is just awesome! The colors are buildable; if you want just a hint of glossy color, you can do two coats. Opaque in three, but if you want to go more opaque, then you can do four (I didn't try with four.) The formula was pretty easy to work with. You do need to manipulate the glitter around so that they don't bunch up together. (You might have to turn the bottles upside down for a bit, if the glitters settled, so you can get maximum glitter placement.) For me, the probem child was Far-Out but it's typical for yellows anyway. Dry time is pretty decent; the first coat dries fast but of course as you build it up the dry time slows down a little bit. The only issue I might have is the handle of the bottle. Don't get me wrong, the bottles look pretty rad but I was having slight difficulties with handling the cap. The brushes are the flat, wide kind, but are fluffy and fan out quite nicely. The brush on Juxtapose was a bit uneven, but not so much that it affects the way you polish. You do need a top coat for these babies, as they dry a bit gritty due to the glitters. My favorites are Satire and Subliminal, becausethey were the ones who applied the easiest.
Would I recommend these polishes? Yes, definitely. If you love jelly sandwiches, you'll surely love these. It looks simple yet the colors stand out. I think it's very summery! :) They are a good way to add some pop to your nails without being too in-your-face. Plus, if you buy the set, you only pay for the price of four! Jennifer also has a discount going onin her Etsy store. Hurry though, because as of the last time I visited the site, she only has 9 sets left. She does sell them in minis so if you're not ready to commit to full sized bottles, you also have another option.
And that's it for this week's Indie Thursdays! Thanks for stopping by and I hope you'll be back! :)
*I bought these polishes with my own money from Mod Lacquer. The set is $38 USD plus shipping, but Jennifer has a discount code going on at the shop.*
*Disclaimer: Due to variations in screen displays and resolutions, polishes may appear different to each reader. I try my best to capture colors as accurately as I can, and if I can't, then I try to describe the color/s to the best of my ability.*